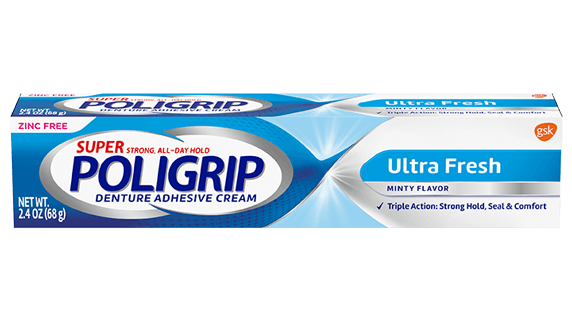 Polident Super Poligrip Ultra Fresh Denture Adhesive
Fresh mint flavor
Zinc-free formula
Strong all-day hold
Who doesn't enjoy that fresh feeling that you get right after cleaning your teeth? Super Poligrip Ultra Fresh gives you the benefit of all-day hold while adding ultra fresh mint flavor so you can get extra close.
HOW TO APPLY DENTURE ADHESIVE

Applying denture adhesive correctly is important for it to be effective.
Step 1: Make sure your dentures are clean and dry.
Step 2: Apply Super Poligrip in short strips*, not too close to denture edges. Using too much adhesive can cause oozing, so make sure to use only a small amount.
Step 3: Press dentures into place and bite down for a few seconds. Super Poligrip creates a layer between your dentures and gums for a comfortable fit and strong, all day hold allowing you to eat, speak and smile with confidence.
*Always follow package directions.