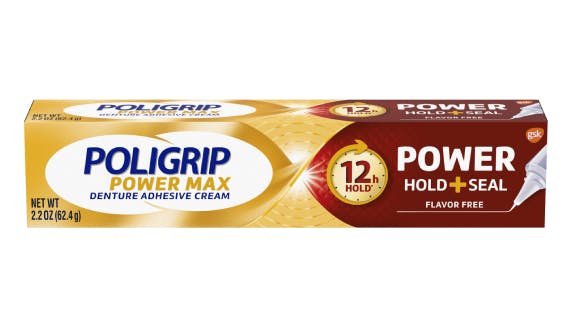 POLIGRIP POWER HOLD + SEAL DENTURE ADHESIVE (FLAVOR FREE), 2.2 OZ
x16 clinically proven. Strongest hold*
5x Protective Food Barrier**
Clinically proven 12-hour hold
Precision nozzle for precise application
Carton is made with recycled material
Zinc free denture adhesive
Flavor free
Fear no food. Poligrip Power Hold + Seal provides our strongest hold within the Poligrip range and creates a 5x protective food barrier** against food particles.
This new denture adhesive cream is clinically proven to deliver up to a 12 hour hold. While the precision nozzle enables the adhesive to form an all round seal to help keep food particles from getting stuck under your denture. Enjoy the freedom from small particles of food, like nuts or popcorn, sneaking under your partial or full denture and savor every bite.
Suitable for partial and full dentures, Poligrip Power Hold + Seal is also free of zinc and flavor and contains no added colors.
It's best to apply a small amount at first, and apply more next time if needed – too much denture adhesive may cause oozing; apply less next time if this occurs. Apply once a day for a 12 hour hold and food seal. Please visit your dentist if you need to apply more than once a day. Refer to specific product packaging for further information.
HOW TO APPLY DENTURE ADHESIVE
1. Clean and dry your denture.
2. Apply product not too close to denture edges:
Upper full denture: Apply in a long continuous strip not too close to the denture edge. Apply 2 shorter strips in the middle of the denture.
Lower full denture: Apply product in a long continuous strip not too close to the denture edge
Partial denture: Apply 2 short strips, not too close to the denture.
3. Rinse mouth before inserting denture.
4. Press denture into place, hold firmly, and bite down for a few seconds to secure hold.
5. Refer to individual product packaging for full instructions.
HOW TO REMOVE DENTURE ADHESIVE
1. Swish mouth with water.
2. Slowly remove denture using a rocking motion.
3. Remove adhesive residue from denture and mouth with warm water and a soft brush.
4. Use Polident Denture Cleanser, such as Polident 3-Minute Denture Cleanser, as per instructions on pack to thoroughly clean your denture and then rinse with water.
POLIGRIP POWER HOLD + SEAL DENTURE ADHESIVE (FLAVOUR FREE): INGREDIENTS
Calcium/Sodium PVM/MA Copolymer, Petrolatum, Cellulose gum, Mineral oil
*Within Poligrip range
**Protects against 5x more food particles vs no denture adhesive.