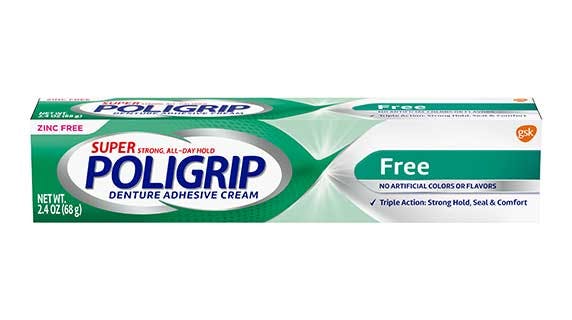 Poligrip Zinc-Free Denture Adhesive Cream
No artificial colors, no artificial flavors
Zinc-free formula
Strong all-day hold
Even well-fitting dentures are susceptible to food particles that can cause discomfort. Just 2-3 pea-size amounts of Super Poligrip are clinically proven to seal out more food particles than no adhesive so you can savor every bite.
Super Poligrip Free is formulated to give you an all-day hold without artificial colors or flavors.
HOW TO APPLY DENTURE ADHESIVE

Applying denture adhesive correctly is important for it to be effective.
Step 1: Make sure your dentures are clean and dry.
Step 2: Apply Super Poligrip in short strips*, not too close to denture edges. Using too much adhesive can cause oozing, so make sure to use only a small amount.
Step 3: Press dentures into place and bite down for a few seconds. Super Poligrip creates a layer between your dentures and gums for a comfortable fit and strong, all day hold allowing you to eat, speak and smile with confidence.
*Always follow package directions.