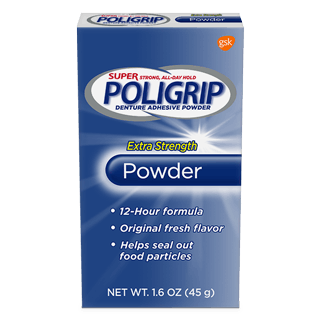 Polident Super Poligrip Denture Adhesive Powder
No artificial colors
Convenient powder form
Zinc-free formula
Strong all-day hold
If you are looking for an all-day hold but would prefer not to use a cream, then try Extra Strength Super Poligrip Adhesive Powder.
Extra Strength Super Poligrip Powder Denture Adhesive Powder is designed to give you all-day hold, so you can let loose. The convenient powder makes it simple to sprinkle on just the right amount of adhesive to keep your dentures in place and food particles out.
Using Extra Strength Super Poligrip Powder*
Applying
1. Clean your dentures thoroughly and leave wet.
2. Apply powder very lightly and evenly onto denture surfaces coming into contact with gums or roof of the mouth.
3. Thoroughly shake off any excess powder.
4. Press firmly into place, hold firmly, and bite down for a few seconds to secure hold.
Removing
It's important to learn how to properly remove your denture adhesive and to keep your dentures clean after each use.
Follow the steps below or check out our step-by-step video guide on how to easily remove your denture adhesive:
1. Swish mouth with water.
2. Slowly remove dentures using a rocking motion.
3. Wipe adhesive residue from gums and dentures with a soft, moist cloth, or a soft-bristled brush.
4. Use Polident denture cleanser to thoroughly clean your dentures.
*Always follow package directions.
HOW TO REMOVE DENTURE ADHESIVE
Removing denture adhesive shouldn't be a messy process. Follow these steps for easy removal, every time.
Step 1: Swish warm water in your mouth, then carefully remove your dentures using a rocking motion.
Step 2: Remove remaining adhesive with warm water and a soft-bristled brush.
Step 3: Make sure to properly clean and soak your dentures before storing it with a cleansing solution like Polident, which kills 99.99% of odor-causing bacteria, before storing them. Place your dentures in a glass of water to keep them from drying out or losing their shape.
*Always follow package directions.