Polident Hold + Seal Denture Adhesive
Precision nozzle helps you apply the right amount
Helps form an all-round seal
Delivers a firm hold that lasts up to 12 hours
Increases bite force**
Flavour-free formulation
Polident Hold + Seal is designed to help block out irritating food particles while providing a firm, long-lasting hold.
The precision nozzle with a finer tip enables exactly the right amount of product to be applied around the edge of your denture forming an all-round seal.
The benefits of Polident's Hold + Seal Denture Adhesive mean that you don't have to let your dentures decide what you eat. Helping to keep your dentures comfortable and secure, the adhesive gives you the freedom to enjoy the foods you love whether you're at home or dining out.
Available in 40g pack size.
**Compared to no denture adhesive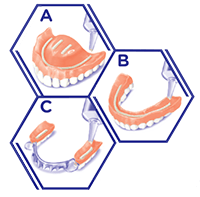 Removing
Swish mouth with warm water.
Slowly remove partial/denture using a rocking motion.
Remove adhesive residue from partial/denture and mouth with warm water & a soft brush.
Use Polident Denture Cleansers to thoroughly clean your denture and then rinse with water.
OTHER RELATED ARTICLES YOU MAY LIKE