POLIDENT HOLD + COMFORT DENTURE ADHESIVE
Dual Action: strong hold + superior comfort*
Provides a soft cushioning layer
Delivers a firm hold that lasts up to 12 hours
The precision nozzle allows you to apply Polident with control and precision
Flavour-free formulation
Polident Hold + Comfort is designed to provide superior comfort*, while providing a firm, long-lasting hold.
The unique† formula provides a soft cushioning layer to absorb the pressure from your partial or denture. It contains a unique† blend of gel polymers, which result in a smoother surface and increased cushioning.
It also features a precision nozzle with a finer tip, which enables exactly the right amount of product to be applied around the edge of your denture.
Polident Hold + Comfort Denture Adhesive can help you feel comfortable and secure, giving you the confidence to get on with living life to the fullest.
Available in 40g pack size.
*Vs. no adhesive.
†Within the Polident adhesives range.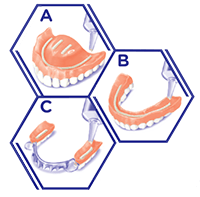 To remove
Swish mouth with warm water.
Slowly remove partial/denture using a rocking motion.
Remove adhesive residue from partial/denture and mouth with warm water & a soft brush.
Use

Polident Denture Cleansers

to thoroughly clean your partial/denture & then rinse with water.
OTHER RELATED ARTICLES YOU MAY LIKE