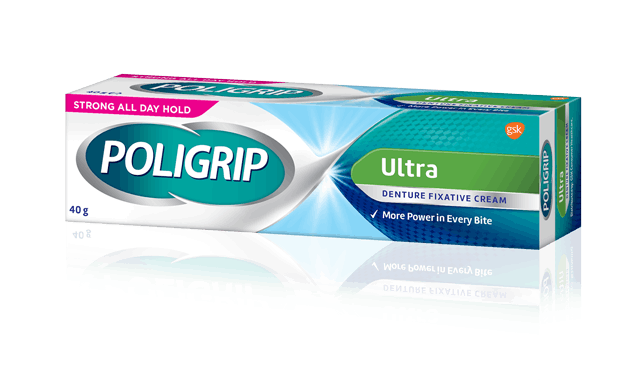 POLIGRIP ULTRA FIXATIVE CREAM
All-day hold
Fresh mint flavour.
Poligrip Ultra Fixative is a fresh mint flavour fixative and is formulated to give you strong, all-day hold.
Even if your dentures fit well they can let in particles of food and cause you discomfort. But Poligrip fixatives help seal out irritating food particles.
USING POLIGRIP FLAVOUR FREE FIXATIVE CREAM
Applying
Apply POLIGRIP Fixative once a day to clean dry dentures, in short strips, as shown.
Rinse mouth, press denture into place, hold firmly, then bite down to secure hold.



Removing
Swish mouth with warm water, then slowly remove denture.
Remove fixative residue from denture & mouth with warm water & soft brush.