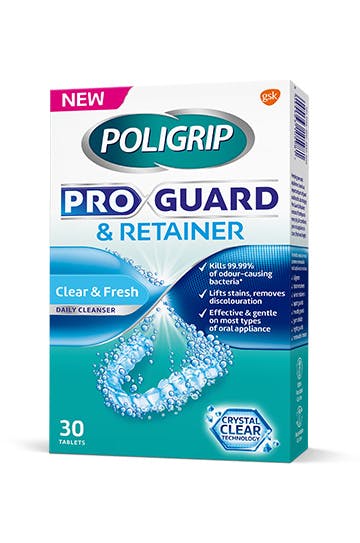 PRO GUARD & RETAINER ANTI-BACTERIAL DAILY CLEANSER
Kills 99.9% of odour-causing bacteria*
Lifts stains and removes discolouration
With Crystal Clear Technology
Effectively cleans
Compatible with a variety of removable dental appliance materials,** such as:

Clear Retainers
Wired Retainers
Sportsguards
Mouthguards
Gum Shields
Nightguards
Removable Braces**
Wearing a dental appliance can lead to the build up of odour-causing bacteria which is why we've developed a daily anti-bacterial cleanser to help keep your appliance clean and fresh.

Our NEW Poligrip Pro Guard & Retainer Anti-bacterial Daily Cleanser has been developed with Crystal Clear Technology - to help keep your oral appliance looking clear, when used as directed. The cleaning formulation is designed to lift stains, remove discolouration and it kills odour-causing bacteria.
*In laboratory tests
**Check with your dental professional if Poligrip Pro Guard & Retainer Daily Cleanser is suitable for cleaning your dental appliance
HOW TO USE PRO GUARD & RETAINER ANTI-BACTERIAL DAILY CLEANSER
Step 1
Drop one Poligrip Pro Guard & Retainer cleanser tablet into enough very warm (not hot) water to cover your oral appliance.
Step 2
Soak for 3-5 minutes. Always follow on pack instructions.
Step 3
For best results, gently brush your oral appliance with cleanser solution using a soft brush.
Step 4
Discard remaining solution immediately after use.
Step 5
Rinse appliance thoroughly with running water before putting back in the mouth.