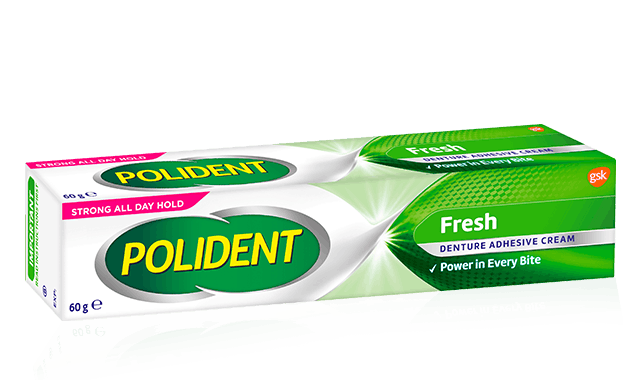 polident Fresh Adhesive
Ultra fresh mint flavour.
Not having to worry about your dentures (commonly called false teeth) sitting tight leaves you free to deal with the more important things in life. If you're after a hold with a natural feel, look no further.
Clean and dry your dentures.
Apply a small amount of Polident Fresh Adhesive in short strips (see diagrams), not too close to the denture edges.
Rinse mouth before inserting dentures.
Press firmly into place, hold firmly, then bite down for a few seconds to secure.
Do not apply more than once a day.



Removing
Swish water around your mouth.
Slowly remove denture using a rocking motion.
Remove adhesive residue from denture & mouth with warm water & soft brush.
Use Polident Daily Cleanser to thoroughly clean your denture & then rinse with water.
OTHER RELATED ARTICLES YOU MAY LIKE