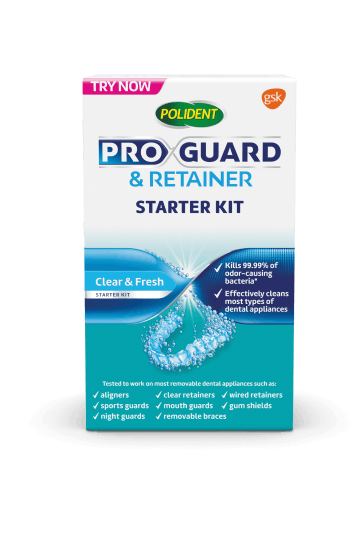 Polident Pro Guard Storage and Retainers Kit
Contains 8 Polident Pro Guard & Retainer Antibacterial Tablets
Also contains the Polident Pro Guard & Retainer Bath
$1.00 coupon on any Polident Pro Guard & Retainer item
Kills 99.9% of odor-causing bacteria
Contains our Crystal Clear Technology
Tested to work on most removable dental appliances including:

Aligners
Clear Retainers
Wired Retainers
Sportsguards
Mouthguards
Gum Shields
Night Guard
Removable Braces*
Keeping your dental appliance clean is an important part of good oral health, particularly when appliance use can lead to the increase of plaque and odor-causing bacteria.

Our NEW Polident Pro Guard & Retainer Starter Kit contains everything you need to keep your removable dental appliance clean and fresh. The kit contains 8 Polident Pro Guard & Retainer Antibacterial Tablets which are designed specifically to clean and remove stains and odour-causing bacteria**. As well as this, you will also find the Polident Pro Guard & Retainer Bath to clean your appliance in and a $1.00 coupon to use on any Pro Guard & Retainer item.
*Based on testing done on polymethyl methacrylate, stainless steel, cobalt chrome alloys, and ethylene vinyl copolymer
*Ask your dental professional if Polident is suitable for your dental appliance
**when used as directed
HOW TO USE POLIDENT PRO GUARD & RETAINER STARTER KIT
Step 1
Drop one Polident Pro Guard & Retainer cleanser tablet into the bath with enough very warm (not hot) water to cover your dental appliance.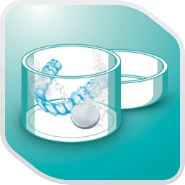 Step 2
Soak for 3-5 minutes. For best results, gently brush your dental appliance with cleanser solution using a soft toothbrush. Discard remaining solution immediately after use.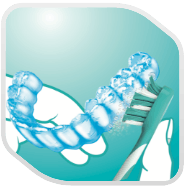 Step 3
Rinse appliance thoroughly with running water.