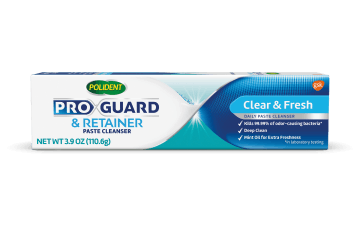 Polident Pro Guard and Retainer Cleanser
Kills 99.9% of odor-causing bacteria*
Provides a deep clean for retainers, mouthguards or aligners
Contains mint oil for extra freshness
Effectively cleans without scratching
Tested to work on most removable dental appliances including**:

Aligners
Clear Retainers
Wired Retainers
Sports guards
Mouthguards
Gum Shields
Night Guard
Removable Braces
Keeping your dental appliance clean is an important part of good oral health, particularly because appliance use can lead to the increase of plaque and odor-causing bacteria. A clean appliance helps reduce gum irritation and soreness.

Polident Pro Guard & Retainer Paste Cleanser was developed to provide a deep clean for retainers, aligners, mouth guards and other removable dental appliances. When used with a soft toothbrush, it kills 99.9% of odor-causing bacteria* and effectively cleans without scratching your appliance.
*In laboratory tests
**Ask your dental professional if Polident is suitable for your dental appliance
HOW TO USE PRO GUARD & RETAINER PASTE CLEANSER
Step 1
Remove appliance from mouth.
Step 2
Wet appliance with warm water.
Step 3
Apply paste to a soft toothbrush.
Step 4
Hold brush firmly and brush all surfaces of your appliance thoroughly with Polident Pro Guard & Retainer paste on a soft toothbrush for at least 2 minutes.
Step 5
Rinse appliance thoroughly with water, before inserting it into the mouth.
Step 6
Wash hands well after use.