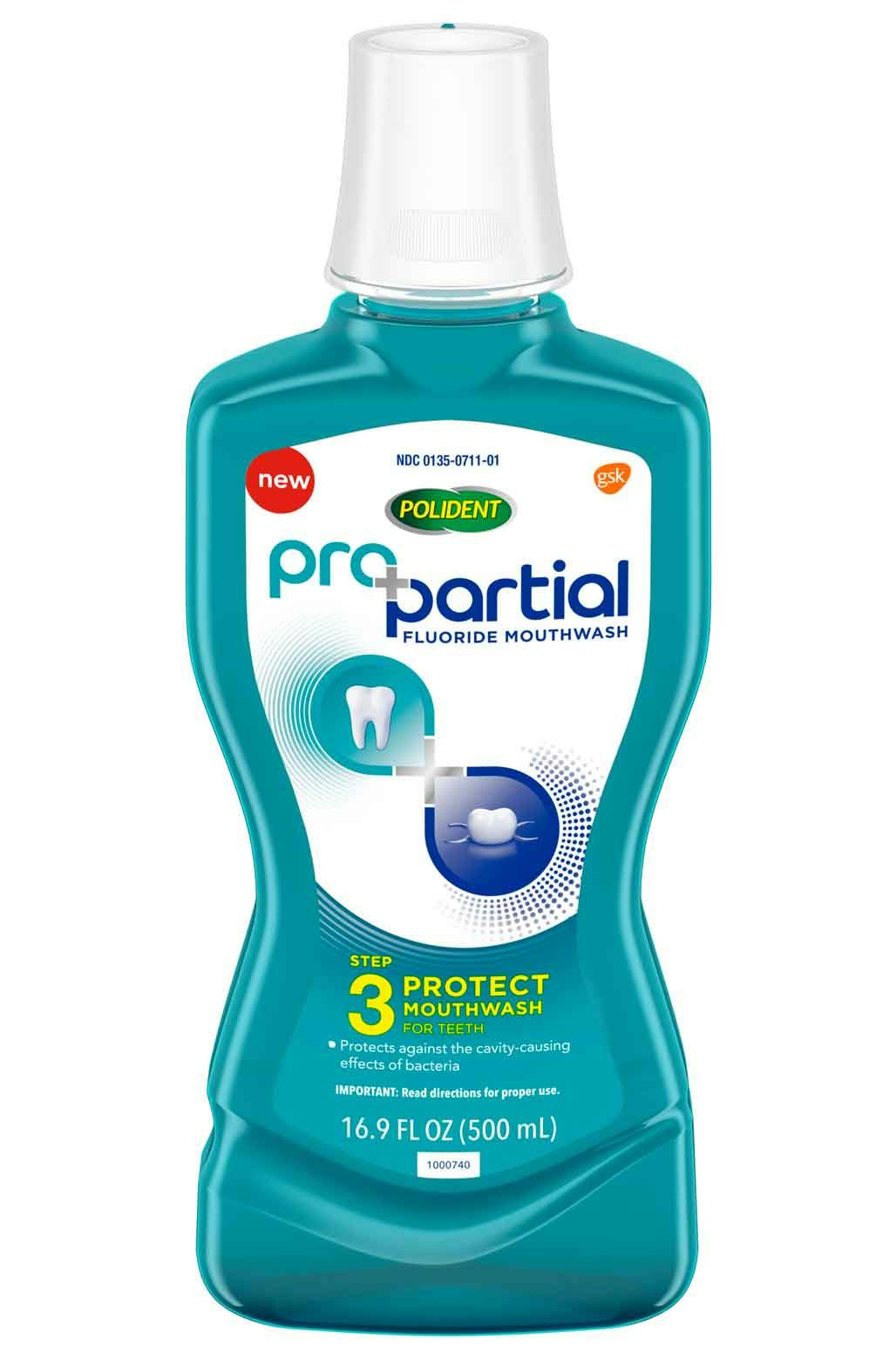 Polident ProPartial Mouthwash Products
Step 3 of our 3-step partial cleansing range
Can be used on its own or as part of the 3-step range
Kills bacteria
Helps lock in minerals and helps lock out bacteria
Works where toothbrushing misses
Creates a protective shield* for your natural teeth
Freshens breath

*due to the presence of fluoride
Polident ProPartial Mouthwash is the third step in our 3-step range. The mouthwash is designed to protect teeth against the cavity causing effects of bacteria and can be used with ProPartial Fluoride Toothpaste to leave your whole mouth feeling clean and fresh.
This mouthwash contains fluoride to create a double-shield to help lock in minerals and help lock out bacteria. The Polident ProPartial Mouthwash reaches your whole mouth and works in the areas toothbrushing misses.

HOW TO USE POLIDENT PROPARTIAL MOUTHWASH
Adults and children 6 years of age and older:
Use twice a day after brushing your teeth with a toothpaste.
Remove cap.

Pour 10 milliliters into cap (10 mL mark on the inside of cap); do not fill above the 10 mL mark.
Vigorously swish 10 milliliters of rinse between your teeth for 1 minute then spit out.
Do not drink from the bottle.
Do not swallow the rinse.
Do not rinse mouth with water.
Do not eat or drink for 30 minutes after rinsing.
Instruct children under 12 years of age in good rinsing habits (to minimize swallowing).
Supervise children as necessary until capable of using without supervision.
Children under 6 years of age: Consult a dentist or doctor.