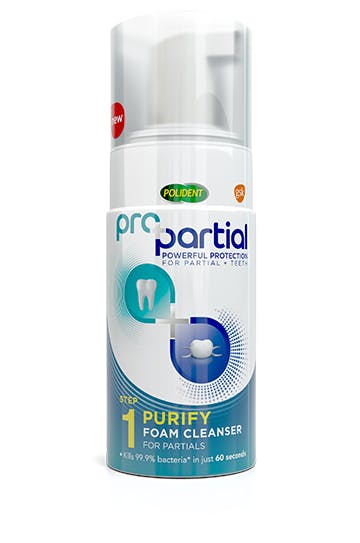 Polident ProPartial Foam Cleanser for Dentures
Step 1 of our 3-step cleansing range
Fast acting foam cleanser for your partial
Kills 99.9% of odor-causing bacteria*
Provides a more gentle clean than regular toothpastes
Non-abrasive formulation lifts stains
Leaves your partial dentures with a fresh, clean feeling
Can be used on its own or as part of the 3-step range
*in laboratory studies
Polident ProPartial Foam Cleanser is the first step in our 3-step range. The foaming cleaning component works directly on your denture or partial to remove dirt and debris. ProPartial foam is a gentle and fast-acting way to help remove stains and plaque, when used as directed.
The non-abrasive formula, with a micro-emulsion full of millions of tiny bubbles, effectively lifts stains from partials. It also kills 99.9% of odor causing bacteria* and leaves your partials with a fresh, clean feeling. Fresh breath for up to 5 hours*.
*GSK data on file, when used as directed
HOW TO USE POLIDENT PROPARTIAL FOAM CLEANSER
ProPartial Foam Cleanser is the first of 3 steps in our process. All 3 steps are specially designed to ensure your mouth stays fresh and your partials and remaining teeth are clean and well protected when used as directed.
Step 1
Remove Partial from mouth.
Step 2
Hold partial firmly.

Step 3
Shake bottle well before use.

Step 4
Pump fully 2 times onto partial, adjusting the amount if needed.
Step 5
Brush partial for 90 seconds, using a soft brush.
Step 6
Rinse partial thoroughly with water, before inserting into mouth.
Step 7
Wash hands well after use.
You can also use our foam cleanser to clean full dentures and other appliances like orthodontic retainers.
For more information on our 3-step range of products, click here. Polident ProPartial Fluoride Toothpaste can help strengthen your natural teeth.