How Long Do Dentures Last?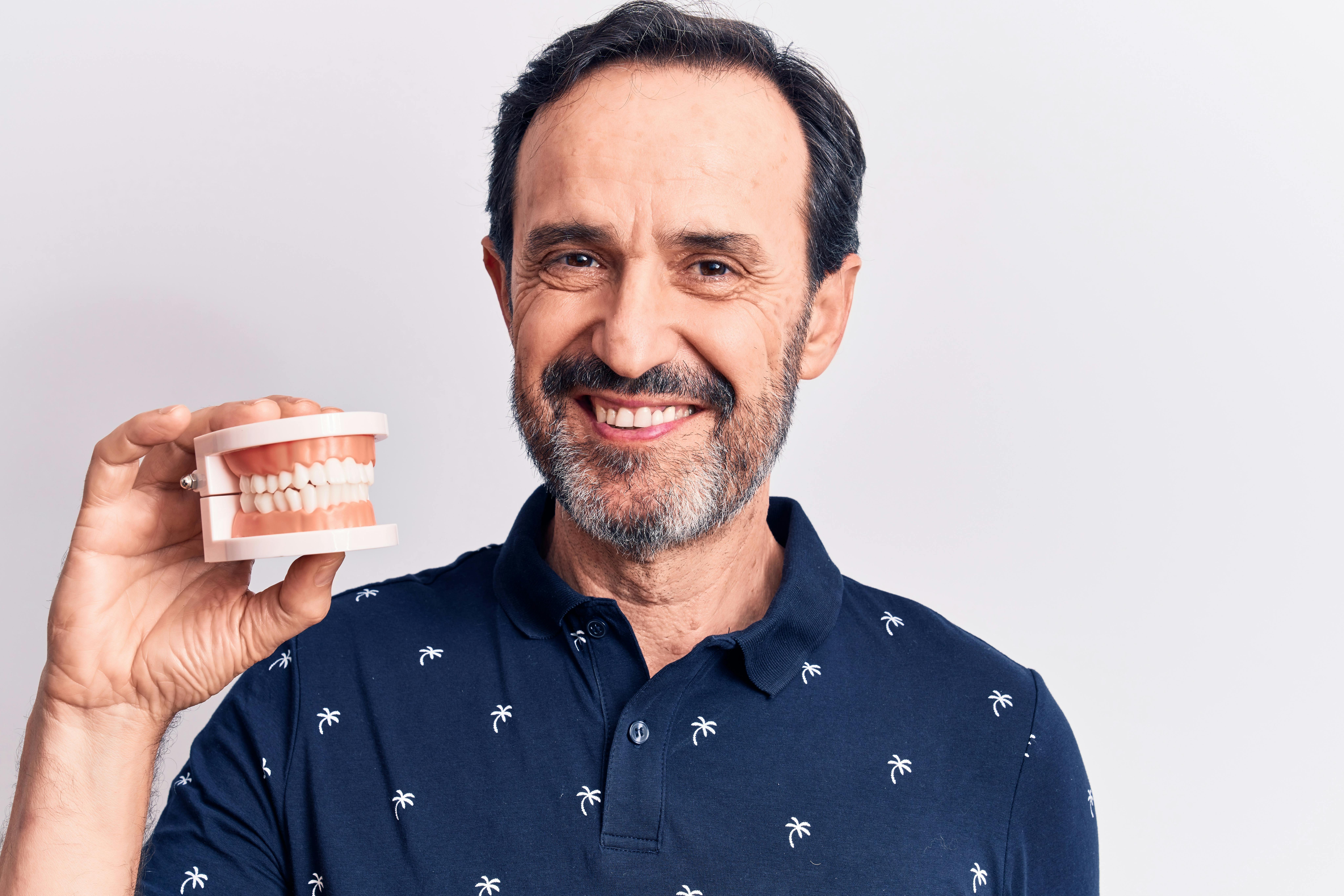 If you purchased your dentures out of pocket, you know that they're a large investment. As with any expensive purchase, you want to keep your set in a good condition for as long as possible. Read on to learn how long dentures last and how to care for them with a good routine.
Your dentures should last for several years with a good denture-care routine. However, some circumstances might warrant replacing your dentures, including normal wear and tear or changes in your mouth.1 In general, dentures that are older than five years are a candidate for replacement.2
How Long Do Partial Dentures Last?
Partial dentures are designed to replace one or more consecutive missing teeth without requiring a full set of dentures. They typically include a replacement tooth on top of a metal or plastic base. The replacement tooth can be fabricated to attach to your existing teeth via clasps or other connectors. When you get fitted for a partial denture, your dentist will tell you how long you need to wear it, as well as give you directions on how to care for it.3 Typically, partial dentures need to be replaced if the surrounding teeth shift or the partial denture falls out completely. The criteria used to evaluate if dentures need to be replaced can also be applied to partial dentures.2
Signs You May Need to Replace Your Dentures
In addition to feeling uncomfortable, loose dentures can cause oral health problems, such as mouth sores.1 Replacing ill-fitting dentures as needed is the best way to prevent discomfort. Your full or partial dentures may need to be replaced if one or more of the following criteria is met:2
There's irritation underneath the base of your dentures
You can't wear your dentures anymore
Your dentures look or feel worn down
Your top and bottom dentures don't fit together anymore
Your denture's teeth are cracked, broken, discolored or missing
Your teeth have shifted, and your partial denture doesn't fit anymore
Your dentures slip frequently in your mouth
If you think your dentures require a replacement, contact your dental team for evaluation.
Tips to Make Your Dentures Last Longer
Treating your dentures well can help them last longer. While caring for your dentures, keep the following in mind:1,2,3
Like teeth, dentures need to be cleaned daily to remove plaque, bacteria, and leftover food particles. Use a non-abrasive denture cleanser and brush gently to avoid causing any scratches in the surface of the dentures. Removing deposits and plaque also help the denture avoid getting stained. Be sure to clean all areas of the denture; don't neglect the underside closest to your gum tissue!
Use a dental appliance brush on your dentures as they're specially designed to fit into the denture's grooves.
After brushing your dentures, soak them in a gentle cleansing solution to help remove any leftover plaque and stains. Do this daily to get rid of lingering plaque or bacteria that can contribute to bad breath and keep your dentures from feeling fresh. Follow the instructions on the package and rinse thoroughly when you're done.
Leave your dentures in a gentle solution overnight and avoid wearing them to bed unless otherwise directed by your dentist. Make sure to brush and rinse your dentures before putting them back in your mouth.
Don't use hot or boiling water on your dentures as this causes them to lose their shape.
Stand over a folded towel or a bowl of water while cleaning your dentures in case you drop them.
When to Visit the Dentist
Ask your dental team how often you should visit for denture maintenance. Routine dental care is important for your teeth and the soft parts of your mouth, including your gums, tongue and cheeks.2 If you're having problems with your dentures, take them to your dentist so they can decide if a replacement or adjustment is needed. Visit your dentist if your dentures become loose to help prevent mouth sores and other uncomfortable problems.3
Looking for other gentle denture solutions? Explore our dental appliance products or learn more about your dentures on our dedicated denture-care hub.