Polident Denture Cleanser For Partial Dentures
THE IMPORTANCE OF PROPER PARTIALS CARE
Partial dentures require special treatment because they can introduce a higher risk of bacteria, which can affect your remaining teeth and gums. It's important to clean your partial regularly as well as strengthen and protect your remaining teeth.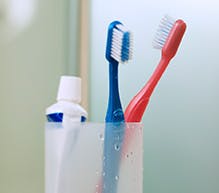 Some cleaning methods may be harmful to partial dentures.
Ingredients found in many toothpastes can be abrasive, and can damage or scratch your partials. That's why it's important to use the right products that do not use any harsh cleaning materials or contain bleach. Avoid using hot water to clean your partials.