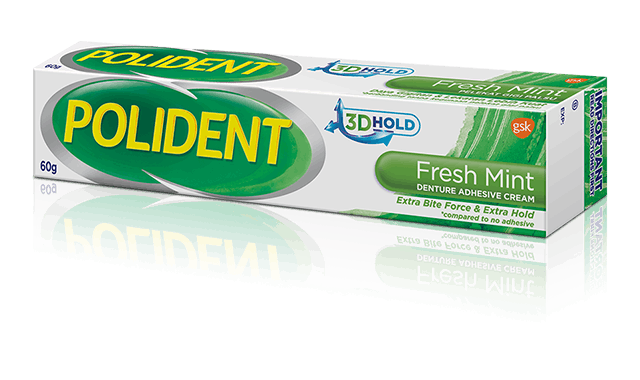 POLIDENT DENTURE ADHESIVE CREAM - FRESH MINT
Up to 12 hour strong hold
3D hold
Helps seal out food particles
38% increase in bite force*
Improve denture fit & comfort
Fresh mint flavour
Zinc-free formulation
*vs no adhesive after 1 hour
Not having to worry about your dentures sitting tight leaves you free to deal with the more important things in life. If you're after 3D hold with a natural feel, look no further.
Polident Denture Adhesive Cream - Fresh Mint gives you 3D hold, and is free from zinc.



Removing
Swish warm water around your mouth.
Slowly remove dentures using a rocking motion.
Remove adhesive residue from dentures and mouth with warm water and a soft brush.
Use a Polident Denture Cleanser to thoroughly clean your denture and then rinse with water.
OTHER RELATED ARTICLES YOU MAY LIKE
Polident Denture Adhesive Cream- Fresh Mint (GMD92437200117A) and Polident Denture Adhesive Cream- Flavour Free (GMD62208200217A) are registered under Act 737. MDAMD 0325/2022